Vasilisa The Brave - limited print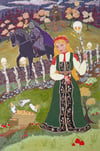 12 x 18 print, museum quality archival paper and ink, limited printing - signed
"Vasilisa the Beautiful" is a popular Russian fairy tale. Vasilisa, mistreated by her step family is sent out deep in the woods to retrieve a skull lantern full of coals from the forest witch Baba Yaga. When the witch discovers the girl she takes her into employment in her house. She gives Vasilisa impossible tasks, however our heroine carries them out with the help of the doll that her mother gave her before she passed. This magical doll helps Vasilisa complete these tasks, and advises her of the questions that will offend Baba Yaga. Vasilisa may asks about the three riders who pass by, the White rider is Morning, the Red rider is Midday and the Black rider is the Night. She may not ask about the disembodied hands who also complete the domestic chores around the house. Baba Yaga asks how Vasilisa was able to preform all her tasks, and when she replies "by my mother's blessing" the witch hastily gets her to leave, giving her the skull lantern filled with with coal that she originally sought.
Themes of feminine growth, of knowledge passing between mother, maiden and crone play heavily into this tale.
Original painting 36 x 48, acrylic and oil based coloured pencil on wood panel
Ships in a tube, tracked and insured.